Welcome To Our Resource Center
Mini Educator E-Collar ET-300-1/2 Mile Remote Waterproof Trainer Static, Vibration and Sound Stimulation Collar with PetsTEK Dog Training Clicker Training Kit
This is a bundle of 2 items: Ecollar technologies Mini Educator ET-300 and PetsTEK Dog Training Clicker Training Kit. Perfect for back yards, parks, competitions, police k-9 work, any types of hunting and large field training.

This training system has up to a half a mile range and fully waterproof with a remote that will float in the water.

Use with dogs that are 5 pounds and larger. Featuring 100 levels of static stimulation plus tone and vibration only modes. Momentary and Continuous buttons for personalized training. For neck sizes between 6 - 30 inches. Assembled and tested in the USA.

With help of the clicker, you can teach your dog new behaviors with positive reinforcement. Training clicker comes in assorted colors: black.

This is one of the best training collars with a remote where you will see great results in training your pet.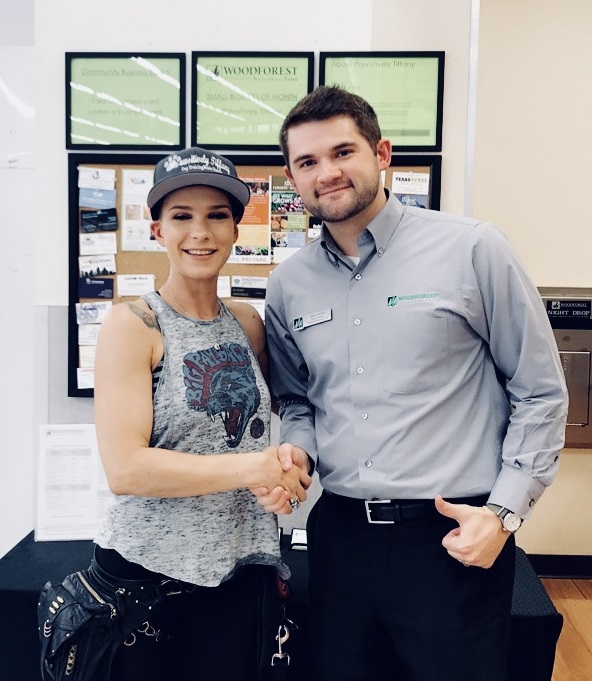 Small Business Of The Month
Pawsitively Tiffany awarded Small Business of the month for September 2018 by Brett, Branch Manager at WoodForest National Bank in Austin, Texas.
Testimonials
We love our customers and their dogs. Our customers and their dogs love us. See what they have to say below.
Tiffany is the best dog trainer that I know of without a doubt. Look no further. She is the one. She has helped so many families, and households become a more enjoyable, loving and trouble free environment. Let's just say she is changing the world one dog at a time! The world should know about Pawsitively Tiffany. So let them know!

Jared R.
She is the best!!! We appreciate all the patience and love she gives our pups, Larky Loo and Romeo. Thank you Tiffany, they are getting the hang of it.

Bob & Lenore T.
Highly recommend Tiffany, she's very knowledgeable at what she does. With her dog training methods you get results hands down. Keep up the great work and spirit!

Lynn L.
I really recommend Tiffany for your fur babies. She is a great dog trainer. Leo has huge improvement in is behavior after the training with Tiffany. Thank you Tiffany and yes Leo miss you!

Tarun G.

Third-party trademarks are the property of their respective third-party owners.